Product Description
Reviews
 Certified Pre-Owned - Osmo Pocket + Accessories 
ITEM : 99327
Certified Pre-Owned: This unit has gone through a rigorous 60-point inspection and has been certified to be in full working condition. All Certified Pre-Owned units are final sale. 
Osmo Pocket
Sunny Life ND Filter x 2 
Pocket Gel Protective Skin with Lanyard 
Cup Support for Pocket 
Charging Cable 
Smart Phone Adapter x2
Controller Wheel 
Screen Protector
User Manuals 
Amazingly powerful performance: The OSMO Pocket. Snap photos in great detail thanks to 1/2.3-inch sensor, capturing incredible photos & videos. With our single-handed design no slip & sweat proof, the OSMO Action offers a comfortable grip for accurate motion & stabilized handle. 
Take advantage of our free diagnostic! OmniView Tech specializes in DJI repair and want to ensure the quality of our product. Our clients always deserve the best and we will give that to them.
Get Osmo Shield: Double your warranty to two (2) years and get a replacement unit if you damage your Osmo Pocket for only $39! 
Lightweight and Portable
As the smallest 3 axis stabilized handheld camera that DJI has ever designed, the compact and intelligent Osmo Pocket turns any moment into a cinematic memory. In just seconds, Osmo Pocket allows you to share your life anywhere, anytime.
3-Axis Mechanical Gimbal
The Osmo Pocket camera is equipped with a remarkable 3-axis stabilized gimbal and a new algorithm that ensures a control accuracy of +0.0050 and maximum control speed of 12C/s.  Gimbal Camera  38.4 X 28.6 X 36.9mm  Control Accuracy  0.0050
Incredibly Small, Truly Smooth
Osmo Pocket uses DJIIs smallest 3-axis mechanical handheld gimbal. In real time, it precisely adjusts for your movements, turning your handheld video of a golden sunset or your child's first steps into a movie-like scene.
Amazingly Powerful Performance
Osmo Pocket transforms all your life's moments into wonderful images. It snaps photos in stunning detail, thanks to a 1/2.3-inch sensor, 800 FOV, and f/2.0 aperture. It can also shoot 4K/60fps video at 100 Mbps and photos at 12 MP with a pixel size of 1.55 pm for footage worth sharing every time.
Single-Handed Design
A sandstone handle is non-slip and sweat-proof, offering a comfortable grip. The built-in touchscreen and buttons provide a quick, single-handed user experience, letting you choose modes and adjust settings in a few swipes and taps.
Designed with Intelligence in Mind
With access to several intelligent functions like ActiveTrack, Motionlapse, and Panorama, Osmo Pocket unleashes your creativity with filming effects that are impossible with smartphones.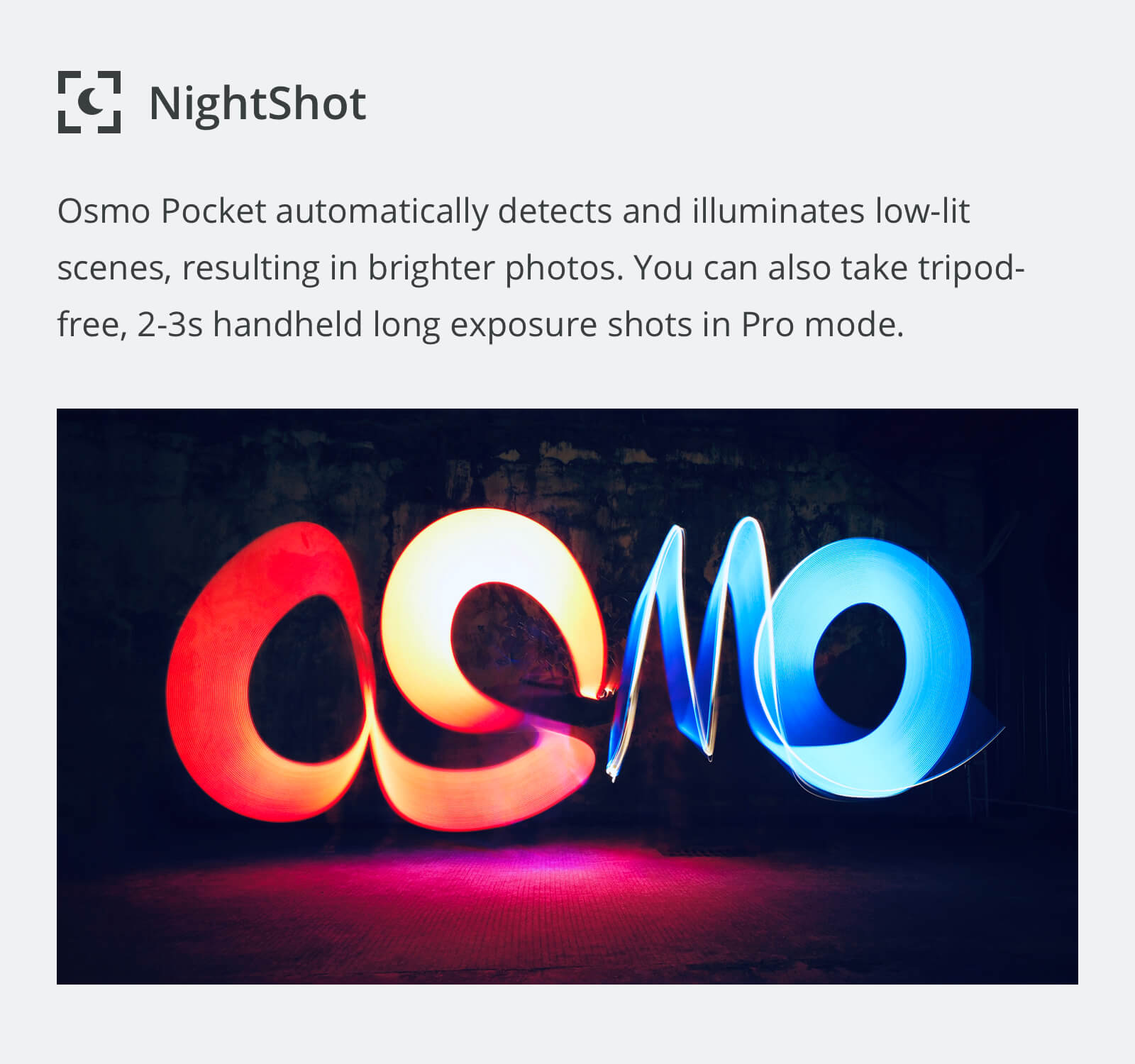 DJI Mimo
Osmo Pocket is meant for anyone with a story to tell, which is why we developed DJI Mimo. This dedicated app expands your imagination with editing tools and opens the door to a community that inspires your own visual storytelling.
A New Story to Tell
Story mode uses a combination of preset shooting patterns and camera motions to help you create professional-quality video whenever you want. Exclusively-designed filters and soundtracks give a unique finish to your footage. Mimo is the companion to let you point, shoot, edit, and share amazing moments.
Advanced Options
Pro mode lets you manually adjust camera parameters and adjust exposure. Powerful imaging capabilities also capture RAW format photos and D-Cinelike videos, retaining rich detail and allowing more room for post-processing.
Robust Editing Suite
DJI Mimo was designed for all types of users to enhance their content with a professional touch. My Story lets you set the tone of your video with templates, filters, music, and watermark stickers with a single tap.
Expansive Accessories, Ultimate Creativity
A suite of accessories perfect for Osmo Pocket offers even more options for filming and photography, helping you create unforgettable footage.
Charging Case
Stores and charges Osmo Pocket, with dedicated space for two microSD cards, four ND filters, and two smartphone connectors.
Wireless Module
Provides a Bluetooth and Wi- Fi connection between Osmo Pocket and your smartphone for seamless remote control and transmission.
Extension Rod
Features an expandable length, gimbal control stick, operation buttons on the handle, and 1/4" tripod mount.
Waterproof Case
Allows use of Osmo Pocket at depths of up to 60m for smooth underwater shots, detailed close-ups, and clear low-light detail.
Accessory Mount
Provides compatibility with a wide range of sports camera accessories to use Osmo Pocket for sports and action- based scenarios.
ND Filters Set
Reduces the amount of light entering the sensor, enabling more control of camera settings in any lighting condition.
Controller Wheel
Equipped with a dial for precise pan and tilt control, as well as two operation buttons for improved shooting composition.
3.5mm Adapter
Allows the use of a dedicated external microphone for maximizing sound quality in a variety of situations.
Cover
Lightweight and sturdy letting you transport Osmo Pocket with ease.
Quick-Release Base
Uses a twist-lock design to attach to the Accessory Mount, and an industrial adhesive strip for a firm hold to a helmet, board, and other surfaces.